Mission:



This project investigated the application of nonparametric Bayesian statistical modeling to automatic recognition of finger spelling from single images and video. It is an attempt to extend our work in speech recognition to image recognition and understanding.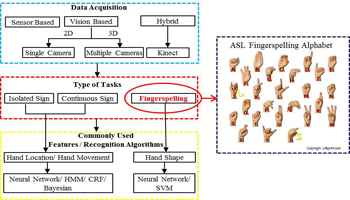 &nbsp
What's New:


Overview: Review the status of the ASL Fingerspelling Recognition, and learn more about the history of this project.

Downloads: Download the latest versions of our recognition software and evaluation scripts.

Publications: Access background information related to this project.

Performance: A quick look at the overall performance of the baseline system using a variety of feature extraction/ recognition algorithms.