Summer of Code - 2015
For our second summer camp, we welcomed 7 students from the Brazilian Exchange Program and one student from Temple's Honors Program. Students were assigned to range of projects involving speech and EEG signal processing, machine learning and big data. Coding included C++ and Python in Linux. Experiments made extensive use of the
OwlsNest
high performance computing environment available at Temple University as well as a small dedicated cluster available in our lab. The projects investigated this summer included: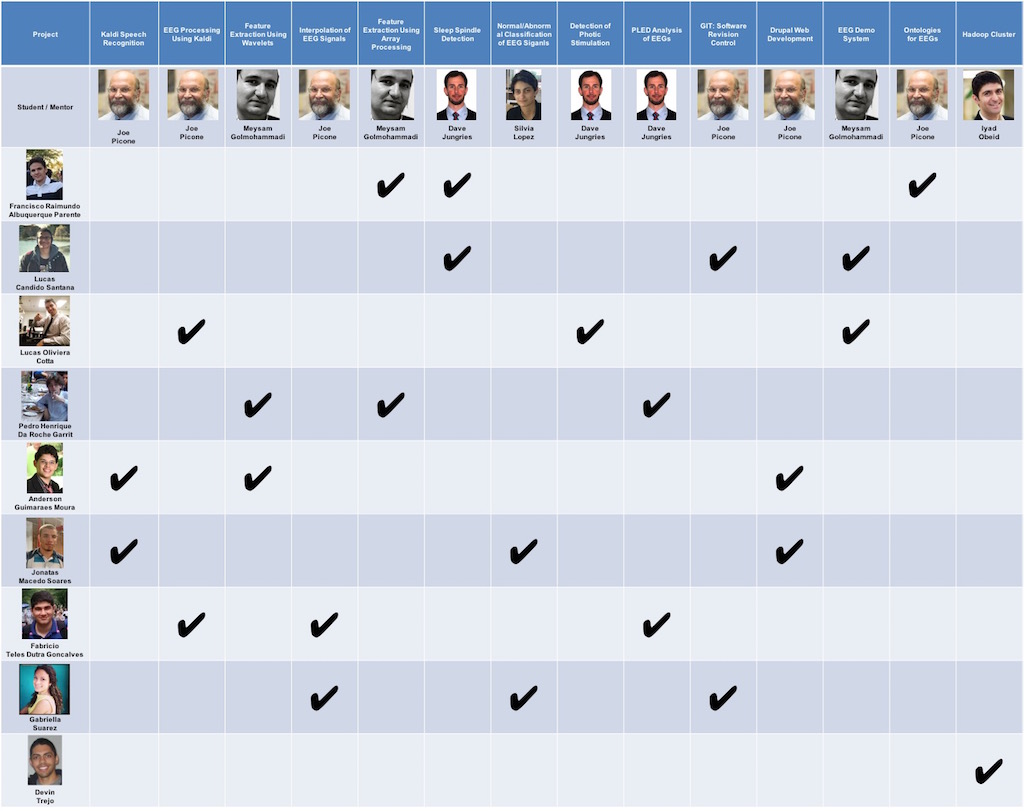 Brief descriptions of these projects are given below:
Kaldi Speech Recognition: In this project we are attempting to learn how to use an emerging speech recognition toolkit named Kaldi. Kaldi integrates three popular approaches to speech recognition: hidden Markov models, finite state automata and deep learning. This goal of this project is to replicate state of the art benchmarks and then to apply this system to new speech recognition applications. We hope to compare results to our nonparametric Bayesian models.


EEG Processing Using Kaldi: This is project is an extension of the previous project. Once we understand Kaldi, we hope to adapt it to our EEG event classification problem and to compare its performance to our existing AutoEEG system. Our goal is to implement enhanced feature extraction, hidden Markov models and our deep learning post-processor from within Kaldi.


Interpolation of EEG Signals: About 15% of the sessions in the TUH EEG Corpus are missing a critical channel and cannot be viewed using a TCP montage. The goal of this project is to develop techniques to synthesize missing channels using interpolation techniques ranging from simple averaging of waveforms to more complex statistical methods for combining feature streams.


Feature Extraction Using Array Processing: An EEG signal is a multichannel signal that is inherently noisy. Channels that are spatially close contain overlapping information that can be used to reduce noise. Our goal in this project is to transform N channels of the signal into M channels of feature vectors in such a way that we improve the performance of our classification system. We expect the new features to be less noisy and more representative of the underlying state of the signal.


Sleep Spindle Detection: Sleep spindles are one of a set of events that can be used to diagnose problems in an EEG. The goal of this project is to extend the AutoEEG system to labeling of sleep spindle events. The output labels can be viewed and manipulated using our annotation and visualization tools.


Normal/Abnormal Classification of EEG Signals: Approximately 75% of the EEGs in the TUH EEG Corpus have been determined to be abnormal. A much smaller percentage of them indicate serious illnesses. The goal of this project is to develop a system that automatically classifies an EEG as normal or abnormal. A key component of this problem is to understand and document how these decisions are made by neurologists.


Detection of Photic Stimulation: Most EEGs in the TUH EEG Corpus contain a channel that encodes photic stimulation. This type of stimulation is used to induce a seizure or related event. The goal of this project is to process these channels and output labels that allow us to view when photic stimulation has been applied. We can then factor that information into our decision-making process when interpreting EEGs.


PLED Analysis of EEGs: Periodic lateralized epileptiform discharges (PLED) constitute a distinctive but uncommon EEG phenomenon of repetitive, periodic, and stereotyped lateralized complexes. Traditionally, seizures occur with PLEDs but it is also accepted that they can exist in patients who never develop epileptic activity. In this project we will postprocess PLED hypothesize using a variety of signal processing techniques and determine their correlation with significant EEG events.


GIT Software Revision Control: Git is a free and open source distributed version control system designed to handle everything from small to very large projects with speed and efficiency. The goal of this project is to bring all NEDC software development under Git management.


EEG Demo System: AutoEEG is a powerful technology for automatic interpretation of EEGs. We have developed a demonstration tool in Python that allows users to view and manipulate the output of AutoEEG. In this project we will extend the demo system's visualization capability by adding several key features such as spectrograms.


Ontologies for EEGs: An ontology is a formal naming and definition of the types, properties, and interrelationships of the entities that fundamentally exist for a particular domain. There are a number of competing ontologies in EEG science including NEMO, EpSO, I2B2 and NITRC and BioCADDIE. The goal of this project is to compare and contrast these and begin integrating the last two into our project.
Hadoop Cluster: We are building our first cluster so that we can optimize its configuration for our experiments. We anticipate the final configuration to have about 256 cores split across 3 to 4 compute nodes.
More information about these projects can be found in our publications archive or at the individual project web sites. We welcome you to attend our end of summer research workshop at which students will make their final presentations.





Up | Home | Courses | Projects | Proposals | Publications
Please direct questions or comments to joseph.picone@gmail.com