&nbsp
Mississippi State University Campus Bus Networking:
A Real-Time Vehicle Monitoring Testbed
Over the next five to ten years, transportation systems will transition from manually-operated systems in which traffic flow is controlled by human operators residing at a central location, to autonomous intelligent systems that react to events in real-time before humans can intervene. Highway deaths continue to rise and have become a leading cause of death worldwide. Worse yet, deaths are expected to grow exponentially as third world countries become increasingly industrialized. In addition to these sober statistics, increasing traffic congestion in major metropolitan areas robs Americans of time and money, and is a major source of environmental, health, and economic development problems.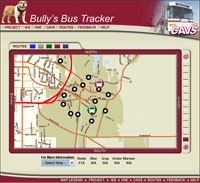 Networked vehicles that perform collaborative problem-solving will be a cornerstone of the next generation Intelligent Transportation System (ITS). The U.S. Department of Transportation's (USDOT) Intelligent Transportation Systems (ITS) program has launched a new generation of initiatives aimed at improving transportation safety, relieving congestion and enhancing productivity. Automotive companies are creating a new generation of vehicles that integrate personal computing, the Internet, and wireless communications. Integrating Global Positioning Satellite (GPS) navigation systems with online road and city maps enables drivers to easily find their way or locate hotels, restaurants, and gas stations in the area. A wireless peer-to-peer networking system enables cars to exchange information or forward Internet data to the nearest wireless base station. Together the automotive companies are interfacing in-vehicle data acquisition and telematics systems with global telecommunications infrastructures to provide a portfolio of diagnostic services for the transportation/automotive market.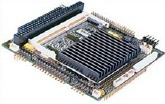 Telematics provides a convergence of electronic technologies and embedded processing for automotive diagnostics, control, entertainment, cellular communication, ubiquitous computing (e.g., Internet, laptops, PDA, computing nodes on wheels), GPS, GIS, and human interfaces. The main objective of this project is the development of the hardware and software necessary to perform two-way communications with a vehicle and to collect critical vehicle performance and sensing data. This will be accomplished by integrating existing on-board measurement information available in most current vehicles through industry-standard interfaces, to new cellular modem technology that allows high-speed wireless data connections. This unique data collection capability will be used to fuel research and evaluation of new alternative power trains.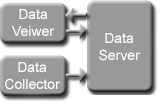 In the first phase of this project, we have developed a system that will monitor the Mississippi State University campus bus system. Bully's Bus Tracker is a web-based bus position monitoring system and a vehicle data acquisition system. In addition to tracking bus position in real-time using a Global Positioning System (GPS), key engine parameters such as speed, rpms, temperature, and engine load are recorded in 1-second intervals, and stored in a database which can be accessed via the worldwide web. A single-board system is being developed that integrates chipset solutions for the automotive bus interface, a GPS receiver, and a cellular telephone modem into a 16 in2 board located inside the dashboard or in the trunk of a vehicle. In the second phase, we will increase the level of integration of this system and shrink its size and power requirements. The system is capable of tracking large numbers of vehicles and is extensible to large metropolitan areas that contain millions of vehicles.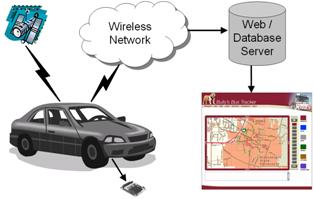 Our networked vehicle system (NVS) is based on general packet radio service (GPRS) - a global system for mobile communications (GSM) based Internet application. NVS's modular architecture is shown above, and can support a variety of communications services. CBN is an NVS application that consists of an automatic vehicle tracking system (AVL) integrated with a vehicle performance data acquisition system. The in-vehicle networking and data collection platform (IVNDS) incorporates a GPS receiver, an on-board diagnostics (OBD II) interface, and a GSM/GPRS transceiver. In the second phase of the project, IVNDS will be integrated with the CAN bus and in-car networking system, such as Bluetooth. This will allow on-board wireless sensors, such as tire pressure monitors, to be captured. It will also decrease the cost of introducing such technology into a vehicle because the need for labor-intensive point-to-point wiring will be eliminated.
The web-based position monitoring system consists of an interactive map that displays the real-time location and the routes of each bus. The operational performance and usage data collected in a real time mode from these buses and other vehicles will provide a baseline on vehicle operation while using various hydrocarbon-based fuels. As alternative power systems and bio-fuels are developed in the various research programs at MSU and CAVS and used in the operation these same vehicles, analysis of the overall operation and the resulting trade-offs between performance, emission and cost can be conducted and the overall efficiency of the alternative power/fuel options can be evaluated.
Our vision is to create a world-class web presence for this data that will establish CAVS as the preeminent site for distribution and analysis of such data. The addition of advanced sensor capabilities above and beyond typical vehicle data opens up the possibility of mobile sensor networks capable of monitoring road conditions, environmental conditions and infrastructure status. The networked collaborative vehicle represents a mobile node in a vast network, closing a gap in ad hoc networks and providing remote roadside structures the means to communicate with authorities. These same vehicles to provide a link for peer-to-peer ad hoc networks for enhanced communication of traffic conditions and advisories.
The Campus Bus Networking project involves the collaboration of the Transportation Department , Information Technology Services Department , and GeoResources Institute (GRI) of Mississippi State University.